Czasem wystarczy jedno spojrzenie na propozycję i już wiesz, że ci się spodoba. "Dear Zindagi" jest dokładnie takim filmem, jakiego potrzebowałam – lekki, mądry i ciepły.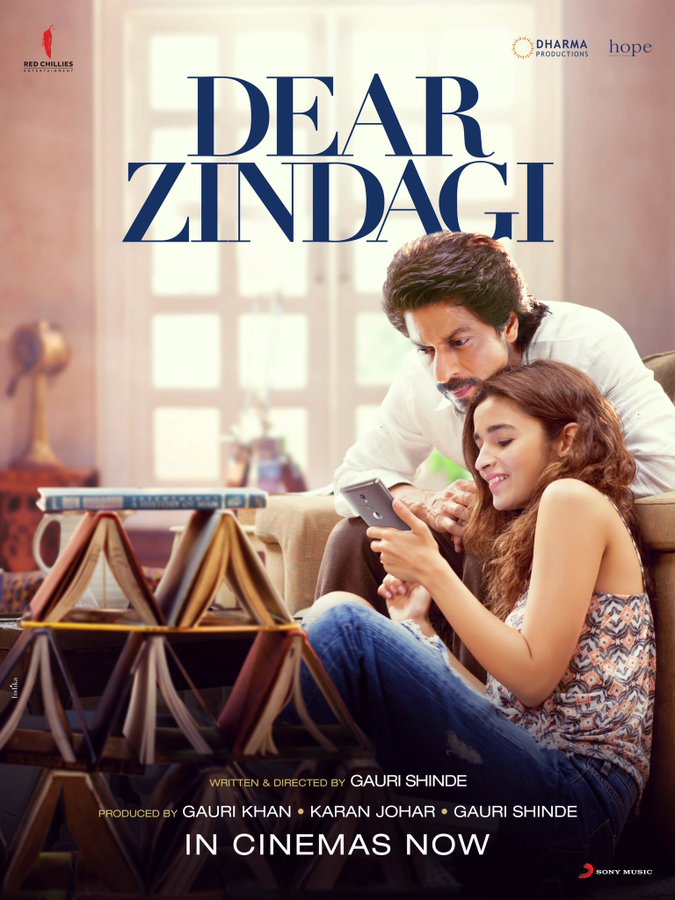 Kaira pracuje jako operatorka kamery. Marzy o nakręceniu własnego filmu, ale też jest piękna, co przyciąga do niej różnego rodzaju amatorów. Sielanka niestety się kończy. Mężczyzna, którego wybrała niespodziewanie dla wszystkich ją porzuca, a właściciel mieszkania ją wyrzuca z powodu tego, że jest singielką. Zdesperowana Kaira wraca więc do rodzinnej miejscowości, gdzie sprawdza się autoprzepowiednia: "kto wie, może to będzie kluczowy moment dla mojej kariery".
Dziewczyna trafia do terapeuty. Od tej pory widz obserwuje jej przemianę. Niby nic nadzwyczajnego, ale z racji tego, że
a) film trwa 2,5 h i
b) jest to bardzo realistycznie pokazana terapia, to widz będzie miał okazję się wzruszyć.
Co prawda, nie brakowało momentów… hm, z lekka uproszczonych, ale przecież to film i musi się skupić na najważniejszych kwestiach. A im dalej w proces, tym lepiej. Szczerze, jeśli się wahasz, czy iść do terapeuty, to "Dear Zindagi" będzie właśnie dla Ciebie. Pokaże Ci po prostu, że to nie jest straszne, a wręcz potrafi postawić człowieka na nogi. Oczywiście pod warunkiem, że trafisz na tego właściwego terapeutę, więc powodzenia, a ja wracam do filmu.
Ponieważ poruszamy się na terenie Indii, wydaje mi się, że dość ważnym aspektem jest feministyczne, wręcz europejskie spojrzenie na niektóre sprawy. [SPOJLER ->] Przykładowo, rodzice nalegają by ona wyszła za mąż jak najszybciej, bo ładna i młoda, i w ogóle. Kaira rzecz jasna nie chce tego robić z pierwszym lepszym, ale ilość ex nie budzi wielkiego respektu wobec dziewczyny. I w tym momencie na terapii słyszy, że nie jest dziwką, tylko osobą, która przed podjęciem najważniejszej decyzji w życiu sprawdza fotele. Piękny moment. [<- SPOJLER]
A teraz, żeby nie było tak słodko, to wymienię wady filmu. Są trochę subiektywne, ale jedna rzecz na początku mnie zmęczyła. Kiedy bohaterka jest na imprezie, widzimy miganie świateł. Może ono nie zawsze wywołuje epilepsję (ja nie mam), nie mniej jednak dla moich oczu był to uciążliwy moment.
Film skupia się na psychice, więc nie każdemu przypadnie do gustu. Mnie te 2,5 h minęło jak jedna chwila, ale zrozumiem, jeśli komuś "Dear Zindagi" będzie się dłużyło, szczególnie przy końcu. Ten uważam za zbyt wydłużony, choć z drugiej strony domknęli WSZYSTKIE wątki, więc jest porządna klamra finału.
Mnie osobiście rozwalał jeszcze język – nie mogłam się zorientować, czy mówią w hindi czy w angielskim, bo to była niezwykle międzynarodowa mieszanka i się w tym gubiłam. Z początku trochę wytrącało z uwagi, ale wreszcie się przyzwyczaiłam :).
Większość postaci jest dobrze rozegrana, ale zdziwiła mnie jedna. Pani, która miała właściwie miała na imię "siostra". Pełniła funkcję dekoracyjną, ale była i nie posiadała imienia. Może to kwestia kultury czy czegośtam :). Nieważne.
Wróćmy do słodzenia. Mnie muzyka bardzo przypadła, ale chyba w filmach bollywoodzkich to raczej mocny element. Już się linkiem chwaliłam, ale jako że nie chce mi się osobnego posta o hinduskich muzykach tworzyć, wstawię i tu OST z filmu. 🙂
I na koniec powiem, że niektóre kadry / zdjęcia są znakomite. A choćby i ten:
Myślę, że ten film najlepiej samemu odkryć. Polecam szczególnie osobom, które szukają ciepłych, wspierających historii. Ponadto porusza ważny aspekt zdrowia psychicznego i może zachęcać do tego, by wreszcie siebie ogarnąć. "Dear Zindagi" można obejrzeć na Netflixie.
Spodobała się recenzja? Możesz mnie wesprzeć tutaj. Dziękuję!